What's that, friends? You feel that gorgeous sunshine on your back and hear those birds chirping? Yup, it's officially SUMMER! And to all the readers of the world, that means one very, very important thing: it's time to dig into that summer reading list for grown girls!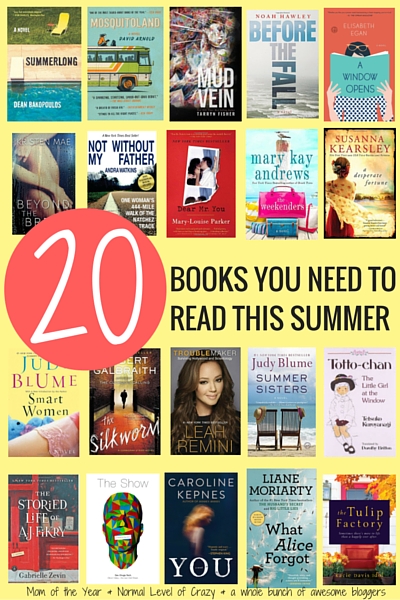 Been a little too distracted by the end-of-school insanity to bone up on what all the hot summer reads are? No sweat! We've got you covered. Twenty of us blogging gals have teamed up with The Mom of the Year and Normal Level of Crazy virtual monthly book club to create a list of exactly what belongs on a grown girl's summer reading list.
Not only do these books come highly recommended (along with the reason you need to be reading them!), we are giving eleven of them away to one of you, along with a $225 Amazon giftcard. I know, it's insanely awesome! More details on the giveaway at the end of the post. For now, log into Goodreads, grab a notepad or settle in with however you track your to-read list and start adding these titles.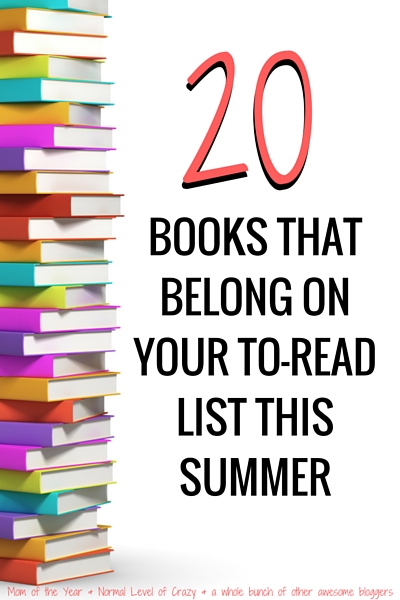 20 Books that Belong on Your Summer Reading List:

Troublemaker: Surviving Hollywood and Scientology by Leah Remini (Toulouse and Tonic) is a GREAT summer read. Leah Remini doesn't hold anything back, from her decades-long experience with Scientology to celeb encounters along the way, especially experiences within Scientology. If you want to hear all the dish on Tom Cruise, including his "Scientology arranged and groomed" girlfriend and then his marriage to Katie Holmes, get the book now. Her honesty and lack of pretense is refreshing. I couldn't put it down!
The Storied Like of A.J. Fikry by Gabrielle Zevin (The Not So Super Mom) This is a bit of a quirky book, but it is perfectly quirky without falling into the creepy or just plain confusing. A.J. Fikry is not the most immediately likable character but you find yourself rooting for him (and his bookstore) anyway. I appreciated that he was a bit of an oddball, because who in our lives isn't without their own idiosyncrasies? I enjoyed the themes in this book–loss, romance, mystery–all peppered with humor and the format–each chapter moves the story forward in time and serves as an ode to one of Fikry's favorite books–was different but enjoyable to any book lovers who try to find themselves in the stories they read.

Smart Women by Judy Blume (Meraki Lane)

I was a huge Judy Blume fan when I was a kid (

Starring Sally J. Freedman As Herself

was my favorite!), so it's no surprise I jumped with joy when I discovered she writes novels for adults as well, and this book did NOT disappoint. If you like a light read with a little racy romance thrown in, this is the perfect summer pick!

A Window Opens by Elizabeth Egan (Sisterhood of the Sensible Moms) A great novel with a fresh, funny voice guiding it, this book tackles the classic struggle of moms trying to have it all and stuck with us to the point of recommending it to others long after we turned the last page.
Beyond the Break by Kristen Mae (Kristen Mae) Quoted from Melissa Mowry of One Mother to Another's review on Amazon: "This book absolutely crushed me. The writing is hauntingly beautiful and full of depth, with well-rounded characters and gorgeous imagery. As a card-carrying heterosexual, I expected to feel a little squirmy about the girl-on-girl aspect and was just reading because I love this author's writing. I was SO WRONG. The sex was, in a word, mind-blowing. None of that lazy, euphemistic smut book language (you won't find talk of anyone's blossoming flower here) just seriously hot, almost artistic love scenes. Hazel is a flawed but loveable main character with a haunting past and so much dimension. Claire is absolutely magnetic; even I was attracted to her. You owe yourself the pleasure–and I do mean pleasure–of reading this book. It will change everything you thought you knew about love, sexual attraction, and chemistry."
Summer Sisters by Judy Blume (Herd Management) Summer Sisters provides a fascinating view into the inner workings and dynamics of a close female friendship over the duration of their journey from young teens into adulthood. Many women will be able to relate to the power that female friends have over one another's hearts, and their ability to shatter them completely sometimes. Riveting, relatable, and emotional.